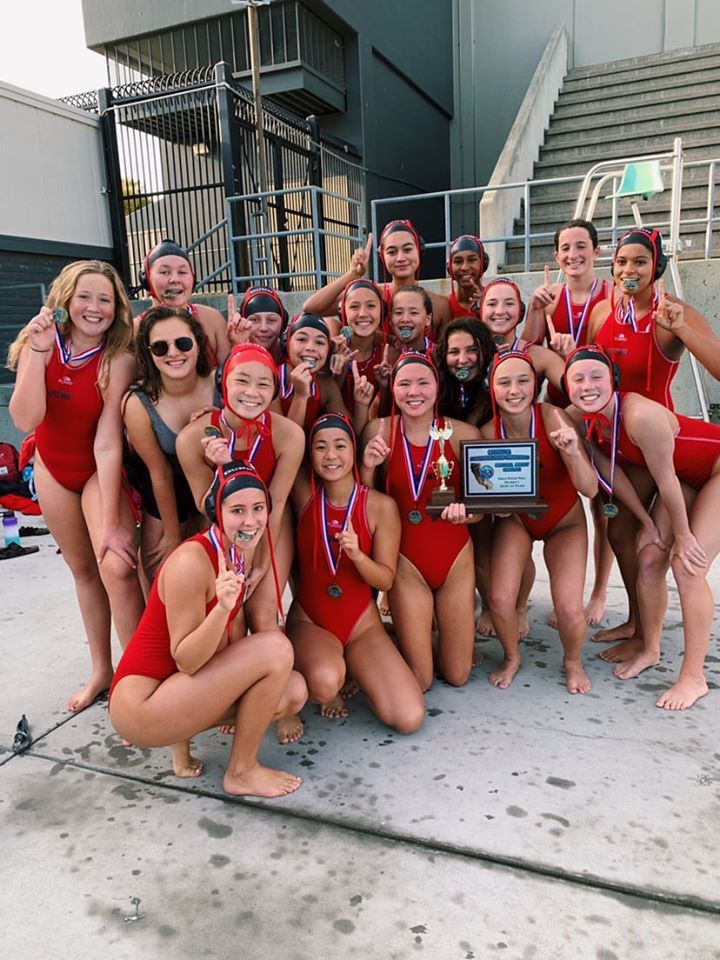 Congratulations to the Titans Girls Water Polo team for winning the CCS Division 1 title!
---
Titan Athletics Spirit Corner
Welcome to our Titan Athletics Spirit Corner where we'll highlight key news from Gunn Athletics each week.
Upcoming Events
Sports Boosters Board Meeting
Wednesday, 1/22 7:00pm in the Staff Lounge
Winter Sports Awards Night
Parents, Athletes, Coaches - Monday, March 2 at 6:30pm Titan Gym
---
Congratulations to all Fall Sport Athletes!
Girls Volleyball:
Odeya Russo - Varsity - MVP
Livia Bednarz - Varsity - Most Versatile Player
Rachel Grant - Varsity - Best Offense Player
Kaylin Hallada - Junior Varsity - MVP
Hannah Zhang - Junior Varsity - Best Setter
Madeline Gray - Freshman - MVP
Mia Gualdoni - Best Offense Player
Boys Cross Country:
Justin Chiao - Varsity - Most Valuable Runner
Henry Moshfeghi - Varsity - Most Improved Runner
Jacob Axelrod - Varsity - Coach's Award
Jordan Cheng - Varsity - Rising Star
Joshua Gehring - Junior Varsity - Most Valuable Runner
Andrew Schoenen - Junior Varsity - Most Improved Runner
Yamm Elnekave - Junior Varsity - Coach's Award
Girls Cross Country:
Maansey Rishi - Varsity - Most Valuable Runner
Izy Hilbert - Varsity - Most Improved Runner
Sophie Alexis - Varsity - Coach's Award
Neha Rishi - Varsity - Rising Star
Alexandra Wong - Junior Varsity - Most Valuable Runner
Ananya Madabhushi - Junior Varsity - Most Improved Runner
Leheng Qi - Junior Varsity - Coach's Award
Football:
Phillip Doan - Varsity - MVP
Griffin Willard - Varsity - Most Improved Player
Jack Dellenbach - Varsity - Richard Jackson IV Teammate
Evan Cole - Varsity - Coach's Award 
James Lambert - Junior Varsity - MVP
Brandon Segundo-Rodriguez - Junior Varsity - Most Improved Player
Fillippi Montes - Junior Varsity - Best Effort
Boys Water Polo:
Cole Vale - Varsity - MVP
Karl Brzoska - Varsity - Defensive Player of the Year
Sam Peng - Varsity - Coaches Award
Wolfgang Edholm - Varsity - Rookie of the Year
Isaac Zelkha - Junior Varsity - MVP
Justin Hou - Junior Varsity - Rookie of the Year
Rowan Chen - Junior Varsity - Coaches Award
Girls Water Polo:
Cooper McKenna - Varsity - MVP
Kate Mallery - Varsity - Best All-Around Player
Isobel Taylor - Varsity - Coach's Award
Sawyer McKenna - Junior Varsity - MVP
Adele Davis - Junior Varsity - Coach's Award
Maren Snyder - Junior Varsity - Most Improved Player
Girls Tennis:
Swati Goel - Varsity - MVP
Ellen Ko - Varsity - Most Improved Player
Kelly Wang - Varsity - Coach's Award
Sarah Jung - Junior Varsity - MVP
Savana Chou - Junior Varsity - MVP
Girls Golf:
Isabella Yu - Varsity - MVP
Alanna Lee - Varsity - Coach's Award