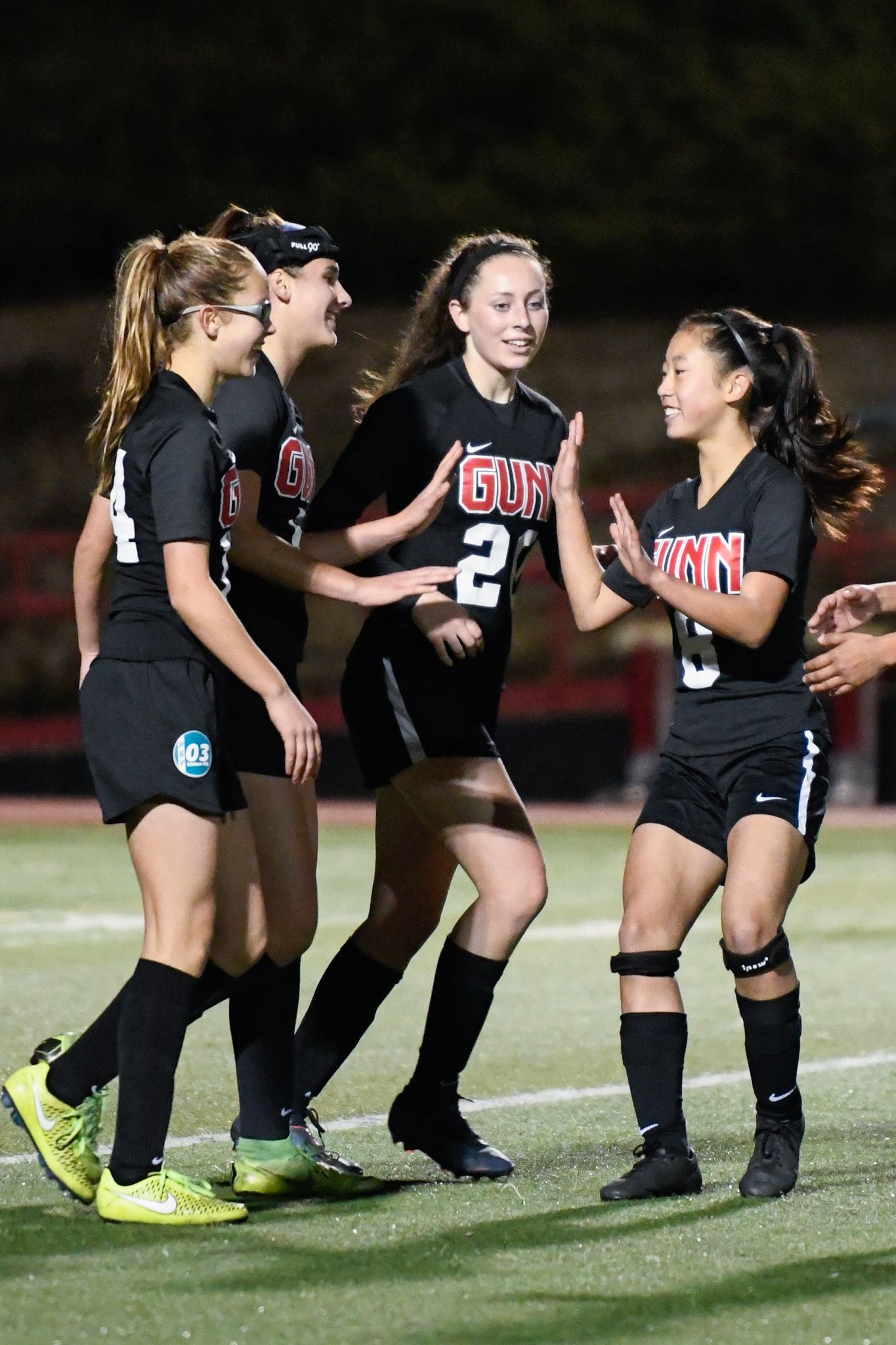 The Girls Varsity Soccer team remains undefeated in league as they head into mid-season
---
Titan Athletics Spirit Corner
Welcome to our Titan Athletics Spirit Corner where we'll highlight key news from Gunn Athletics each week.
Upcoming Events
Sports Boosters Board Meeting
Wednesday, 1/22 7:00pm in the Staff Lounge. 
Winter Sports Awards Night
Parents, Athletes, Coaches - Monday, March 2 at 6:30pm Titan Gym
---
Titan Athlete of the Week: Ana Schremp (Soccer)
Congrats to soccer player, Ana Schremp (Soccer) on being recognized Athlete of the Week by Palo Alto Online on 1/15/20. The sophomore scored three goals to help the Titans open their SCVAL El Camino Division season with a pair of victories. She scored twice in a 4-2 win over Cupertino and then scored the only goal in a 1-0 win over Wilcox.
Congrats to last week's Honorable Mention Athlete Calvin Cai (Wrestling) on receiving - Palo Alto Online on 1/8.
News by Sport
Basketball
Boys Basketball earned a 44-42 win over visiting Lynbrook on Wednesday, 1/14. 
Soccer
Girls soccer team who remain undefeated in league, beating visiting Milpitas last night, 5-0! Gunn Girls Varsity is now 3-0 in league. Sophomore Ana Schremp scored a hat trick (3 goals!) adding to her lead in SCVAL El Camino Division conference standings in player goals scored. Emma Listgarten and Morgan Cianfichi each added a goal for the win. Sawyer McKenna, Elina Saab-Sunden, Emersen Sweeney, Ana Schremp, and Mia Steadman got assists. Goalkeeper Nicole Smith had two saves.

Boys soccer tied with Wilcox 2-2 on Friday, 1/10, and still sit on top of the league standings. Senior striker and captain, James Hahn, scored in the first half. Sophomore Dylan Sidhu scored in the second half, with an assist from junior Joey Cianfichi. The Titans lost their 2-0 lead in the middle of the second half, but still held on for the tie.
Alumni News
2019 Alum graduate Grace Tramack, Williams & Mary freshman was named the Colonial Athletic Association's Rookie Swimmer of the Month for November 2019. This is a new award begun in 2019-20 by the CAA, and Tramack is the first W&M swimmer to win the award. In the month of November, Tramack ranked fifth overall for W&M and No. 1 among all freshmen with 149.25 points scored, helping the team to a 3-1 record in dual meets and a win at the 10-team West Virginia Invitational. Tramack won two races, the 100 free at VMI and the 200 fly against UNCW, and also had five seconds and a pair of third place finishes. At the West Virginia Invitational, she made the championship finals of all four of her individual events, including fourth in the 500 free, sixth in the 1,650 free, seventh in the 200 fly, and eighth in the 400 IM. Tramack's best times this semester rank highly not just in the CAA, but also in the W&M school record books. Congrats Grace!
Upcoming Games
Come watch your Gunn Titans take on our crosstown rival Paly Vikings in the biggest, most exciting match-up of the basketball season. This year's set of games will benefit both the Gunn Foundation and Paly's Rise Together Education.
Boys Frosh - 2:00pm
Girls JV - 3:15pm
Boys JV - 4:30pm
Girls Varsity - 6:30pm
Boys Varsity - 8:00pm
Follow all the upcoming sporting events https://gunn.pausd.org/campus-life/athletics (monthly view)
Photo by Sunny Jefferson