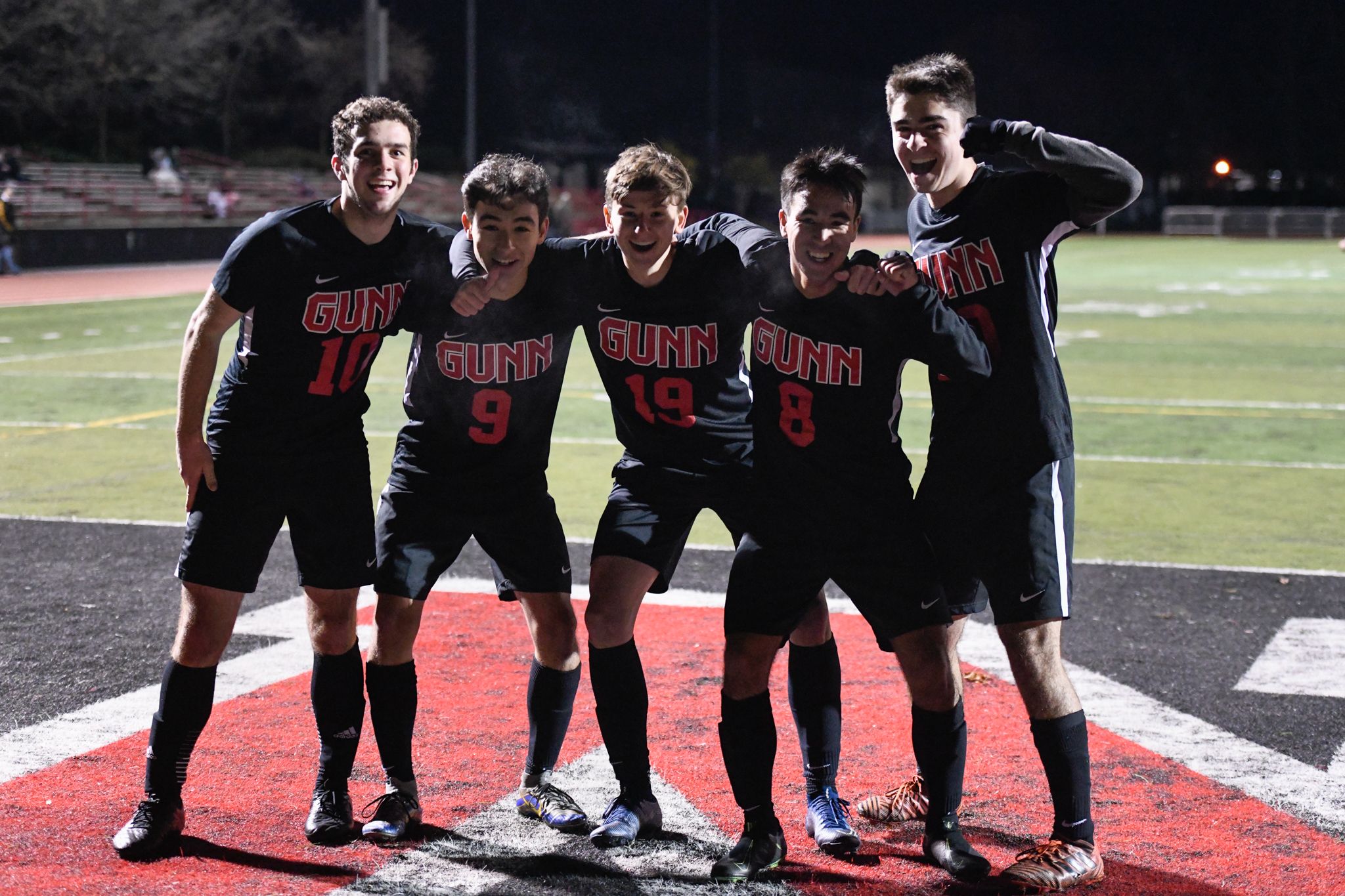 The Gunn Boys Varsity Soccer team remains atop league standings after beating Fremont at home last Friday!
---
Titan Athletics Spirit Corner
Welcome to our Titan Athletics Spirit Corner where we'll highlight key news from Gunn Athletics each week.
Upcoming Events
Sports Boosters Board Meeting
Wednesday, 2/19 at 7:00pm in the Staff Lounge 
Winter Sports Awards Night
Parents, Athletes, Coaches - Monday, March 2 at 6:30pm Titan Gym
---
Titan Honorable Mention Athletes of the Week: Mikayla Silverman (Wrestling) and Calvin Cai (Wrestling)
Congrats to this week's Honorable Mention Athletes Mikayla Silverman (Wresting) and Calvin Cai (Wrestling) on receiving recognition from Palo Alto Online on 1/22. This is the second time this month that Calvin Cai has received this honor.
Congrats again to last week's Athlete of the Week, Ana Schremp (Soccer) on being recognized Athlete of the Week by Palo Alto Online on 1/15/20. The sophomore scored three goals to help the Titans open their SCVAL El Camino Division season with a pair of victories. She scored twice in a 4-2 win over Cupertino and then scored the only goal in a 1-0 win over Wilcox.
News by Sport
Basketball
A gym full of school spirit with packed bleachers supported our basketball teams on Saturday, 1/18 for the annual match-up against Paly, even though they are in different leagues. The games benefited both the Gunn Foundation and Paly's Rise Together Education.
Congrats to the Girls JV team who beat Paly 48-26! Way to go JV girls! Luke McFaul led the boys varsity team with nine points and Mollie Kuelker led the girls varsity team with 11 points.
Boys Varsity - Paly 50-Gunn 35
Girls Varsity - Paly 58-Gunn 19
Boys JV - Paly 54-Gunn 44                                                                                                
Boys Frosh - Paly 61-Gunn 41
Football
Congrats to Kylen Liu, Jack Dellenbach, Leo Ye, Saia Faasisila, and Eitan Smolyar who are representing Gunn in the Charlie Wedemeyer All-Star Game this Saturday, 1/25 at 6:00pm at Westmont High School. Also, our very own coaches are leading this North Team - Head Coach Jason Miller, Defensive Coordinator Mark Weisman and Offensive Line Alex Legenhausen! Go Titans! Tickets can be purchased at https://santaclaraallstar.com/
Golf
Boys golf has a meeting during lunch period in Room N107 this Friday, 1/24 for all those interested in playing. Any questions, please contact Coach Igler at migler@pausd.org.
Soccer
The Boys and Girls' Varsity soccer teams won their games on Friday, 1/17 remaining on top in SCVAL El Camino league standings. 
The Girls Varsity team beat Fremont on the road, 3-1, and remain undefeated (7-3-1, 4-0)! The girls JV team tied but still haven't lost a league game either (3-0-2)! 
The Boys Varsity team won at home against Fremont, 3-1. Freshman Kevin Landverde scored in the first half, while seniors James Hahn and Colin MacPherson scored in the second half. The Titans record improves to 4-0-1 in league (9-1-3). The boys JV team also won 3-0, with two goals scored by Leopold Arnaud, (4-1).
Wrestling 
Boys wrestling attend the MidCals Wrestling Tournament held on Saturday, 1/18 at Gilroy High. Gunn finished 24th in the 68-team tournament. Calvin Cai at 145 placed fourth. Cai fell into the consolation round with a loss in the Round of 32 and wrestled his way back to the third-place match with five victories.
Girls wrestling attended the same tournament and came out placing 13th. Mikayla Silverman at 143 placed third. Silverman pinned her opponent in 45 seconds of the third-place match. Jalena Hertzler at 106 reached the semifinal round.
Upcoming Games
Thursday, 1/23:
Varsity Wrestling at Wilcox 6:30pm
Friday, 1/24:
Varsity Boys Soccer at Lynbrook 3:30pm
Varsity Girls Soccer at Gunn 5:30pm vs. Lynbrook
Varsity Girls Basketball at Gunn 6:15pm vs. Santa Clara
Varsity Boys Basketball at Gunn 7:45pm vs. Santa Clara
Spring Athletic Registration and APD/Athletic Participation Donation                  
Gunn Sports Boosters asks families to consider a $250 participation donation each season that their Gunn student athlete competes, link below.
Athlete Participation Donation link here
All athletes going out for a Spring sport must register at AthleticClearance.com. Athletes must also have a current athletic physical to start practice or tryouts. Most sports will start Monday 2/3/20.
Follow all the upcoming sporting events https://gunn.pausd.org/campus-life/athletics (monthly view)
Photo by Sunny Jefferson