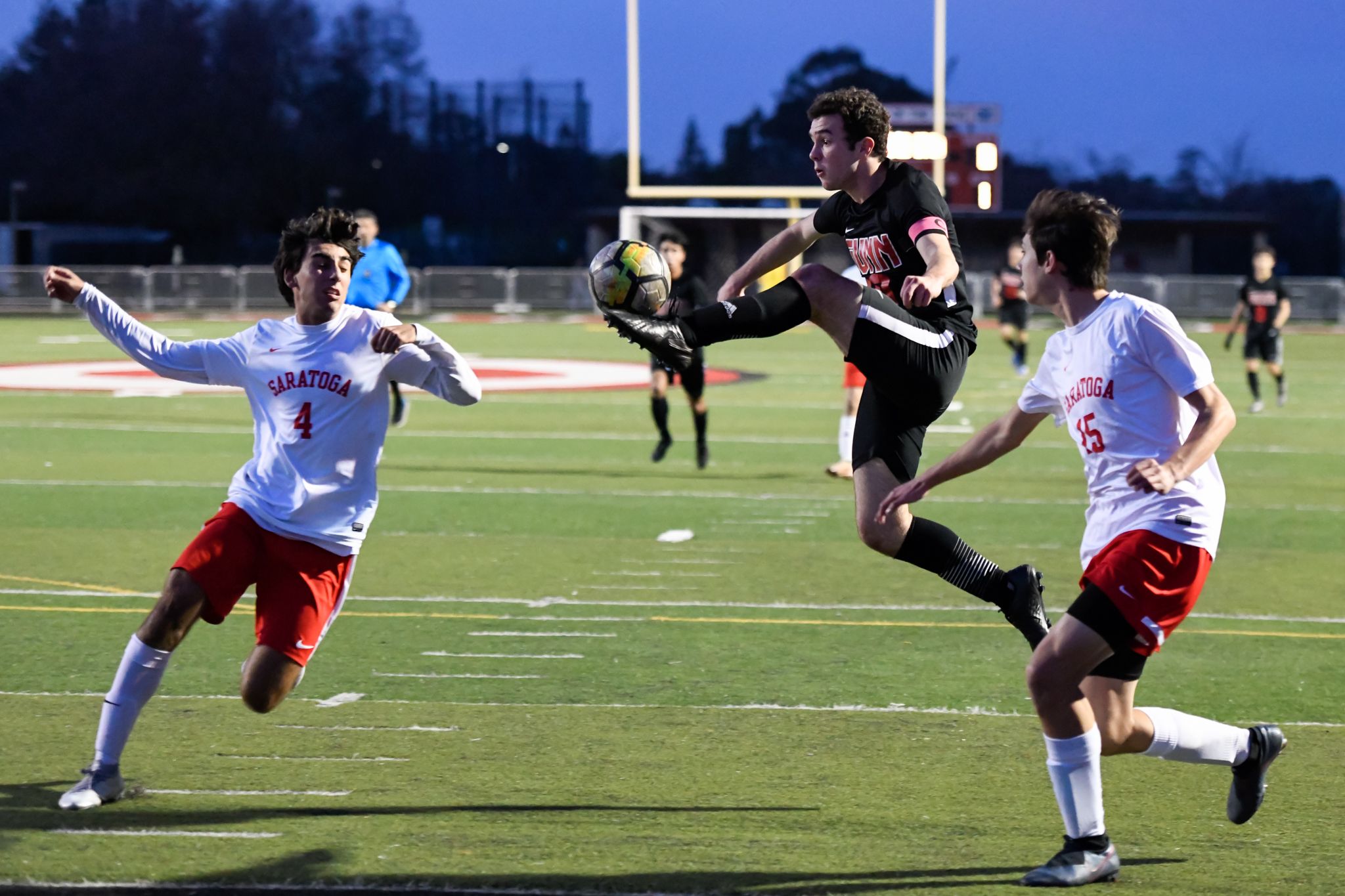 The Gunn Boys and Girls Varsity Soccer teams still on top of league standings! Senior James Hahn flying high!
---
Titan Athletics Spirit Corner
Welcome to our Titan Athletics Spirit Corner where we'll highlight key news from Gunn Athletics each week.
Upcoming Events
The Spring Parent Meeting is Tuesday, February 11 at 6:30pm in Titan Gym with team meetings to follow. 
-Parent meeting if your child is playing a spring sport                                                 
-Athletics and Sports Boosters will present                                                             
-After the Athletics presentation, coaches will conduct team meetings  
Sports Boosters Board Meeting
Wednesday, 2/19 at 7:00pm in the Staff Lounge 
Winter Sports Awards Night
Parents, Athletes, Coaches - Monday, March 2 at 6:30pm Titan Gym
---
Titan Honorable Mention Athletes of the Week: Emersen Sweeney (Soccer) and James Hahn (Soccer)
Congrats to this week's Honorable Mention Athletes Emersen Sweeney (Soccer) and James Hahn (Soccer) on receiving recognition from Palo Alto Online on 2/5.
Again, congratulations to last week's Honorable Mention Athletes Ana Schremp (Soccer) on receiving recognition from Palo Alto Online on 1/29. 
News By Sport 
Football
Mark your calendars! Palo Alto and Gunn will meet in a non-league football game Sept. 4 at Gunn, the first time the two have played since 2012. Gunn coach Jason Miller also characterized it as a friendly rivalry. "We are going to integrate activities and community fun in order to become an exemplary friendly rivalry modeled for schools everywhere,'' Miller wrote via text to Palo Alto Online.
Soccer
Gunn soccer teams continue reign atop SCVAL standings.
Both the Gunn boys and girls soccer teams won Friday, 1/31 to remain atop the Santa Clara Valley Athletic League El Camino Division standings.
James Hahn scored both goals in Gunn's 2-1 victory over host Wilcox. The senior has at least 14 goals on the season for the Titans (12-1-3, 7-0-1). Senior Rayan Taghizadeh recorded both assists.
Freshman Mia Steadman scored twice in the Gunn girls' 4-0 victory over visiting Wilcox to remain unbeaten in league play. Sophomore Emersen Sweeney added a goal and assist and Emma Listgarten scored for the Titans (9-3-2, 7-0).
Wrestling
Last home meet of the season is this Thursday, 2/6 starting at 5:30pm. Phillip Doan and Esau Ferdinand Jr. will be honored at Senior Night.
Spring Athletic Registration and APD/Athletic Participation Donation                  
Gunn Sports Boosters asks families to consider a $250 participation donation each season that their Gunn student athlete competes, link below.
Athlete Participation Donation link here
-All athletes going out for a Spring sport must register at AthleticClearance.com. Athletes must also have a current athletic physical to start practice or tryouts. 
Photo by Sunny Jefferson