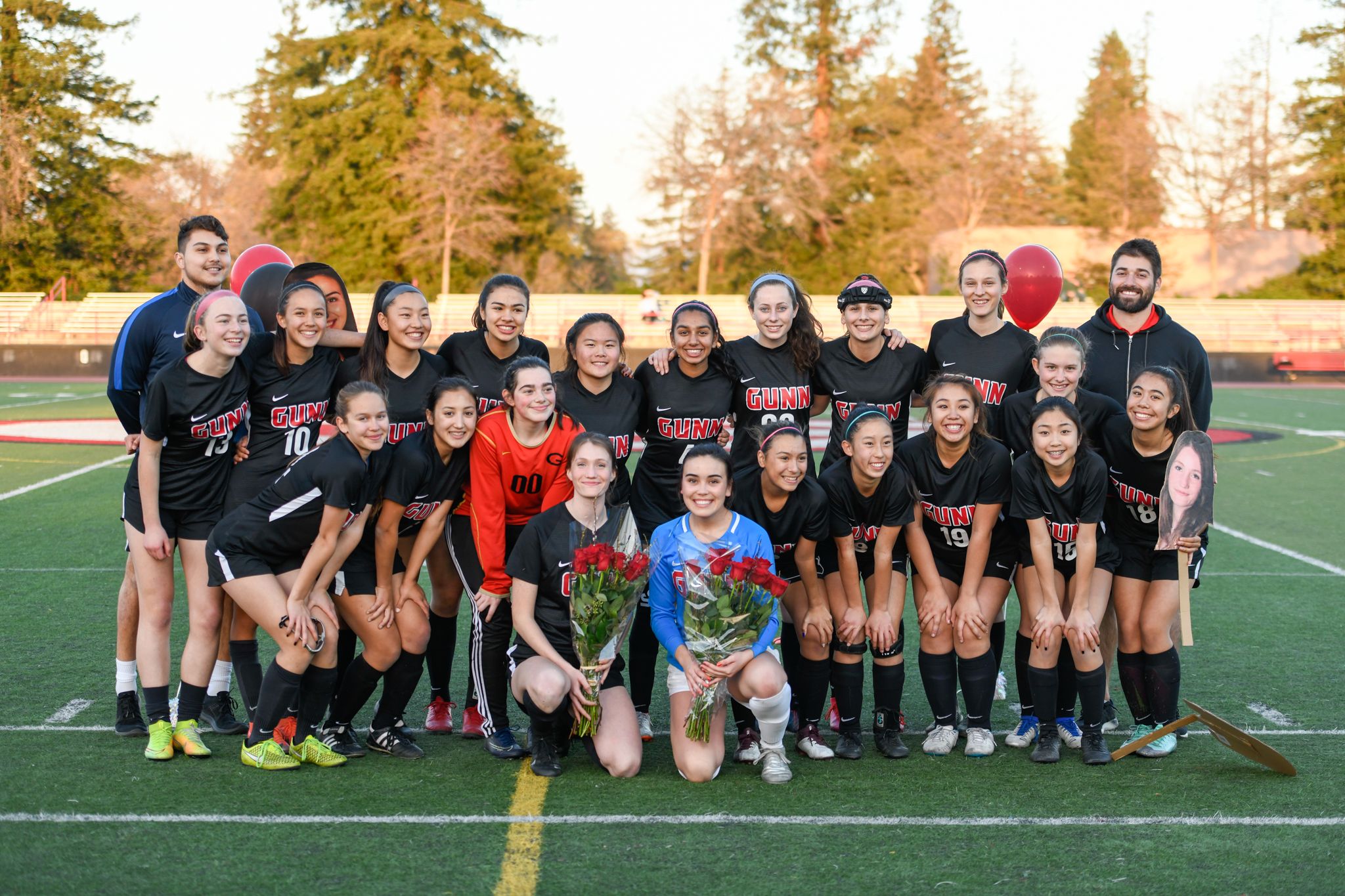 The Gunn Girls' Soccer team finished the regular season undefeated, 12-0, and clinch the SCVAL El Camino Division title!
---
Titan Athletics Spirit Corner
Welcome to our Titan Athletics Spirit Corner where we'll highlight key news from Gunn Athletics each week.
Upcoming Events
Sports Boosters Board Meeting
Wednesday, 3/18 at 7:00pm in the Staff Lounge 
Winter Sports Awards Night
Parents, Athletes, Coaches - Monday, March 2 at 6:30pm Titan Gym
---
Titan Athlete of the Week: Ana Schremp (Soccer)
Congrats to this week's Athlete of the Week Ana Schremp (Soccer) on receiving recognition from Palo Alto Online on 2/19. This is Ana's second time to be honored!
Again, congratulations to last week's Honorable Mention Athletes Emerson Sweeney (Soccer) receiving recognition from Palo Alto Online on 2/12.  
News By Sport 
Basketball
GIRLS' Basketball
Senior Joyce Lian was honored at SENIOR NIGHT on Tuesday, 2/18. Congrats Joyce!
Mollie Kuelker scored 14 points but Gunn fell to visiting Monta Vista 66-35 on Tuesday, 2/18 in a SCVAL El Camino Division game. Senior Joyce Lian and Carmel Tong combined for another 16 points.
BOYS' Basketball
Congrats to the boys' varsity basketball team who are in the CCS Division II playoffs. First-round is on Friday, 2/21 at 4pm in San Mateo! Go Titans!
Boys' varsity basketball players honored seniors Jerry Li and Akash Ravani at Senior Night! Congrat Jerry and Akash!
In the SCVAL El Camino Division, Gunn topped visiting Monta Vista 52-46 on Tuesday, 2/18 with senior Akash Ravani scoring 12 points. Kaden Holdbrook also scored 12 points and Varun Madabhushi added 11 points, who finished fourth in the division. 
Soccer
GIRLS' and BOYS' Varsity Soccer won SCVAL their title! Now on to CCS! Gunn, along with the rest of the qualifying teams, will find out who, when and where it will open Central Coast Section playoffs beginning Saturday at Thursday's seeding meeting. The boys teams will be seeded at noon, followed by the girls at 3 p.m.
GIRLS' Soccer
Seniors Nicole Smith and Penny Alioshin were honored Wednesday, 2/19 at SENIOR NIGHT.
2/19 - Ana Schremp and Catherine Hsieh each scored and Gunn beat visiting Monta Vista 2-0 in the Santa Clara Valley Athletic League El Camino Division girls soccer regular season finale Wednesday, 2/19. Schremp gave the Titans a 1-0 lead midway through the first half, getting an assist from Mia Steadman. Schremp recorded her league-leading 17th goal. Hsieh, a defender, delivered the second goal with a long shot.
2/17 - Another WIN for the girls' varsity soccer team! They won 5-1 against Monta Vista on Monday, 2/17. Gunn, which finished second to Los Altos last season, has surpassed last year's 11 total victories and has won 15 consecutive league matches dating to last year. Ana Schremp added two goals and an assist to her division-leading totals in helping the Gunn girls soccer team remain unbeaten in the Santa Clara Valley Athletic League El Camino Division. Elina Saab-Sundén, Emersen Sweeney and Mia Steadman also scored for the Titans.
2/14 - Congratulations to the Gunn girls soccer team who clinched the Santa Clara Valley Athletic League El Camino Division title Friday, 2/14 with a 4-1 victory over host Lynbrook! Freshman Mia Steadman opened the scoring early, and sophomore Ana Schremp continued her strong season with three goals to put the game out of reach. Gunn senior Nicole Smith contributed on both sides of the field, with a clean sheet in goal for the first half and an assist as a striker in the second. Gunn leads the league in offense and defense, scoring 45 goals while only letting in 17. The rock solid defense has been led by Haley Parrett, Catherine Hsieh, and Sawyer McKenna.
BOYS' Soccer 
Ten Seniors were honored on Friday, 2/14 at their SENIOR NIGHT: James Hahn, Ryan Wang, Rayan Taghizadeh, Will Markevitch, Danny Bisenti, Henry Merchant, Preston Dankwah, Pierre Napaa, Colin MacPherson, and Reid Devereaux. 
2/14 - Gunn boys' Varsity soccer can make a case for CCS Division I after finishing its Santa Clara Valley Athletic League El Camino Division unbeaten. The Titans dominated league play and ended the regular season with a 2-0 victory over visiting Lynbrook on Friday, 2/14. Senior James Hahn, who recorded both assists against Lynbrook, led the division with 15 goals scored. He aided in goals by seniors Ryan Wang and Rayan Taghizadeh, both scored in the second half. Senior goalie Pierre Napaa made numerous saves to maintain a clean sheet for Gunn), which led the division in scoring.
Wrestling
Congratulations to our CCS seeded wrestlers, girls: Mikayla Silverman (1st), boys: Calvin Cai and Phillip Doan. Good luck!
The JV Boys' and Varsity Girls' and Boys' earned a lot of medals across all three SCVAL tournaments, and a strong group will be continuing on to represent Gunn at the CCS (Central Coast Section) competition next weekend in San Jose, which determines who qualifies for the state championships at the end of the month.
At the SCVAL JV tournament, we sent five wrestlers and earned five medals.
Thomas Chadwick took 2nd at 145 pounds
Jack Oralevich took 2nd at 195 pounds.
Carter Jaquette took 3rd at 145 pounds.
Quentin Boussard took 4th at 145 pounds.
Jonathan Mar took 6th at 113 pounds.
At the SCVAL Girls' Varsity tournament, we sent seven wrestlers and earned seven medals, and all girls qualified for CCS. The girls took 4th overall in SCVALs.
Mikayla Silverman WON SCVALs at 150, beating the #1 seed at CCS along the way.
Erica Norton earned 2nd place at 103.
Jelena Hertzler earned 2nd place at 106. 
Beanie Jose earned 3rd place at 121.
Emma Grant-Bier took 4th at 111.
Allyson Dinh took 4th at 126.
Marianna Smith took 6th at 116.
At the SCVAL Boys' Varsity tournament, we sent eight wrestlers and earned six medals, qualifying five boys for CCS.
Calvin Cai earned 2nd place at 145 pounds.
Phillip Doan earned 2nd place at 152 pounds.
Armin Abolhassani earned 3rd place at 170 pounds.
Justin Lin took 5th at 120 pounds.
Neil Hanson took 5th place at 220 pounds.
Bryan Ayon-Ruiz took 6th place at 126 pounds, alternate.
Spring Athletic Registration and APD/Athletic Participation Donation                  
Gunn Sports Boosters asks families to consider a $250 participation donation each season that their Gunn student athlete competes.
All athletes going out for a Spring sport must register at AthleticClearance.com. Athletes must also have a current athletic physical to start practice or tryouts. 
Photo by Sunny Jefferson