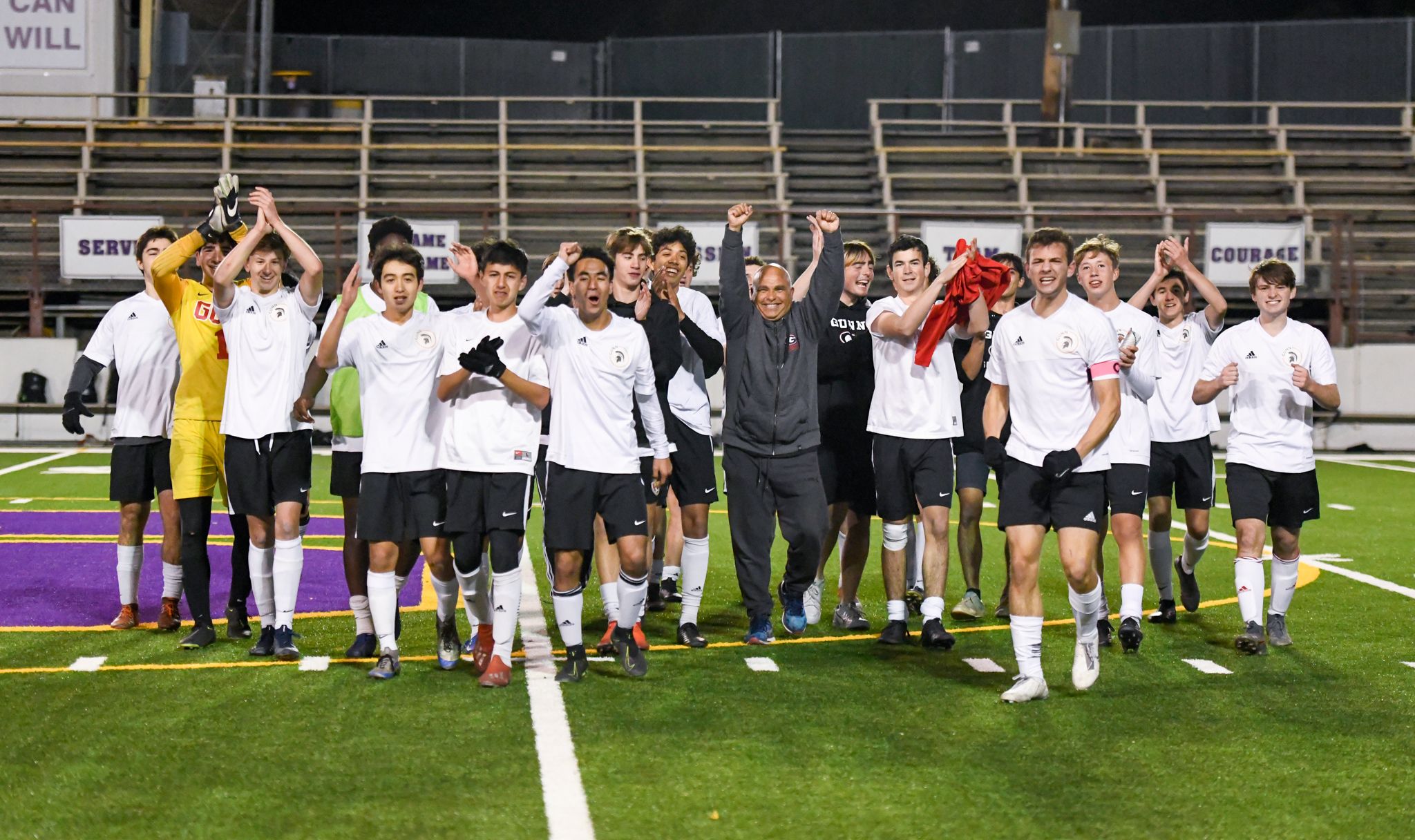 The Gunn boys' soccer team upset top-seeded Salinas in the CCS D1 semifinal game to advance to the championship game against Mitty on Saturday, Feb 29, at 5:30p!
---
Titan Athletics Spirit Corner
Welcome to our Titan Athletics Spirit Corner where we'll highlight key news from Gunn Athletics each week.
Upcoming Events
Sports Boosters Board Meeting
Wednesday, 3/18 at 7:00pm in the Staff Lounge 
Winter Sports Awards Night
Parents, Athletes, Coaches - Monday, March 2 at 6:30pm Titan Gym
---
Titan Honorable Mention Athletes of the Week: Mikayla Silverman (Wrestling) and Akash Ravani (Basketball)
Congrats to this week's Honorable Mention Athletes of the Week Mikayla Silverman (Wrestling) and Akash Ravani (Basketball) on receiving recognition from Palo Alto Online on 2/26.
Again, congratulations to last week's Athlete of the Week Ana Schremp (Soccer) receiving recognition from Palo Alto Online on 2/19. 
News By Sport 
Baseball
2/26-Aidan Everett and Evan Wiederhold each collected three hits and Gunn opened the season with an 11-1 victory over host Woodside in a non-league baseball game. Kylen Liu and winning pitcher Jack Dellenbach each drove in three runs for the Titans, who host Los Altos at 3:30 p.m. Thursday, 2/27. Dellenbach allowed an unearned run on two hits over four innings. He walked three and struck out two. Josh Pennington, who had two hits, threw three hitless innings, with four strikeouts, for the save.
Basketball
BOYS
2/25-The boys' varsity basketball team pulled off its third consecutive road upset Tuesday, 2/25 night with a 74-58 win at third-seeded Valley Christian. The Titans, unseeded to begin the playoffs, advance to play Christopher in the Central Coast Section Division II semifinals on Thursday. And, get this, the game will be played at Gunn. It's been an incredible postseason run. After finishing the regular season 10-14, Gunn won at San Mateo by 20, at Leland by 15 and now by 16 at Valley Christian. Gavin Kitch had a career game with 25 points. He went on a solo 9-0 run to start the game and never cooled off. He finished 9 of 11 from the field with one 3-pointer and 6 of 7 at the foul line. Kaden Holdbrook scored 16 points and Akash Ravani 11. Gunn shot a lights out 68 percent as a team.
2/22-Gunn is headed to another playoff game with the 71-56 win over Leland. Gunn moves on to Tuesday's boys Division II quarterfinals to play at No. 3 Valley Christian at 7 p.m. Out of the 80 teams that have advanced to Tuesday's enrollment divisions quarterfinals, Gunn is the only one that began the playoffs unseeded. Kaden Holdbrook was one of four players in double figures against Leland. Akash Ravani led the way for the second straight night with 17 points. Michael Mora scored 14 while Holdbrook and Gavin Kitch had 12 apiece. Mora also pulled down a team-high 12 rebounds. While Gunn was one of only three teams in the 39 CCS playoff games that were played Saturday in five boys divisions and five girls divisions to score over 70 points, players and coaches pointed to defense in attempting to explain the team's playoff run.
Soccer
GIRLS' and BOYS' Varsity Soccer won SCVAL El Camino titles! Now on to CCS! 
GIRLS
2/22-No. 7 seed Gunn girls' soccer survived a hostile environment, a red card and a 44-mile one-way trip to Cabrillo College to beat No. 2 Aptos in Division I play last night. Gunn's starting goalie was shown a red card in the seventh minute and an inexperienced field player took over in the net. It didn't matter. A defensive backline that featured Haley Parrett and Sawyer McKenna helped keep Aptos at bay. Playing a woman down for over 30 minutes, Elina Saab-Sunden put Gunn (15-3-2) up in the first half with a great shot to the far post. With 14 minutes left in the match, Annah Turner put a ball into the box to the near post and Ana Schremp beat the goalie to record the game winning goal. Gunn plays Wed. night, 2/26 in Morgan Hill at 7pm against Sobrato in the CCS semifinals. Go Titans!
The Gunn girls' JV soccer team has a lot to be proud of this season, too! They finished 8-3-1 - a record season going back to 2011, when JV stats were first recorded on MaxPreps. 34 goals scored. 5 goals conceded. Congrats to the team!
BOYS
2/26-The Gunn boys' soccer team became the latest to upset a top seed and this time the Titans are rewarded with a spot in the championship match of the Central Coast Section Division I tournament. The Titans and host Salinas played to a 2-2 draw and then Gunn converted its penalty kicks 4-2 to advance out of the semifinals Wednesday night. Gunn and Salinas engaged in a fast-paced game and in front of a lively crowd. The Titans scored first when James Hahn tapped in a corner kick from Nickolas Romero. Salinas rallied to tie the game before the end of the first half. Gunn (17-1-2) came out strong in the second half and went ahead 2-1 after centerback Alexis Bromberg placed a header high into the back of the net from a free kick by Hahn. Both teams missed scoring opportunities throughout second half until Salinas scored the tying goal with a rocket shot into the net from the top of the box. The score remained tied 2-2 after regulation and overtime. Gunn goalkeeper Pierre Napaa recorded two diving saves in the penalty kick shootout when he stopped the Cowboys' second and fourth shots. Romero, the Titans' fourth player, placed his penalty kick far right into the goal to clinch it. Napaa and Romero were both swamped by a happy group of teammates. Gunn faces Mitty (15-2-4) on Saturday at a site and time to be determined.
2/22-The Gunn boys' soccer team defeated visiting San Mateo today in the quarterfinal game of the CCS Division I playoffs, 3-1. Gunn dominated the first half but couldn't put the ball in the net, heading into halftime tied 0-0. In the second half, the Titans came out strong and senior James Hahn scored first with a goal up the middle from an assist by senior Rayan Taghizadeh. The scoring continued for Gunn as sophomore, and outside defender, Dane Jefferson scored on an attack from a pass by freshman Kevin Landaverde. Gunn put the game out of reach with a third goal when junior Joey Cianfichi scored off a cross from Taghizadeh. Next up, the Titans travel to play in the semifinal match against Salinas on Wed., Feb 26 at 7:00pm. Go Titans!
Tennis
BOYS
2/26-Boys' Varsity Tennis beats Mitty 5-0! Way to go, Titans!
Wrestling
Our CCS wrestling medalists - Calvin Cai, Mikayla Silverman, and Phillip Doan! Congratulations!
All athletes going out for a Spring sport must register at AthleticClearance.com. Athletes must also have a current athletic physical to start practice or tryouts. 
Photo by Sunny Jefferson